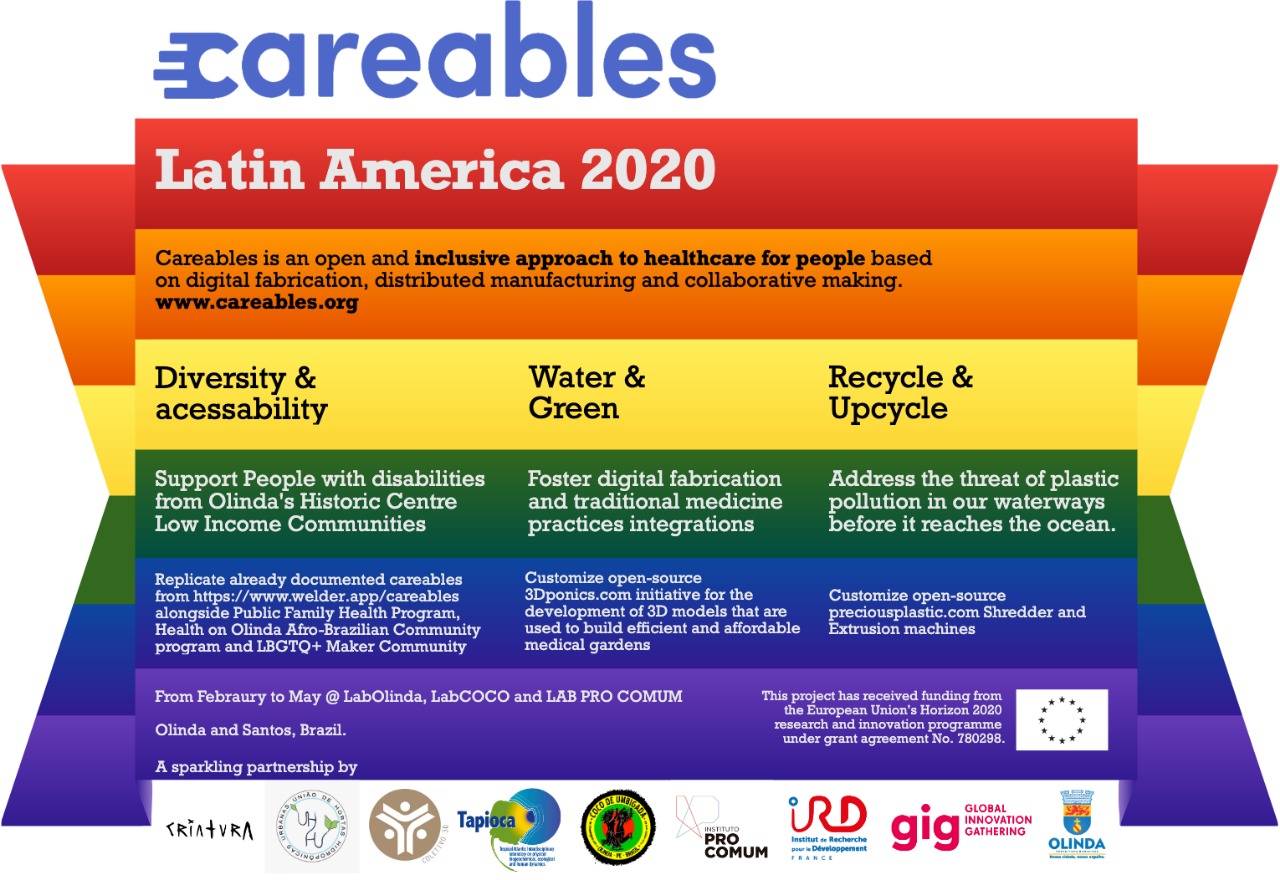 The opening event for Careables Latin America 2020 program will take place on Wednesday,
5, 7:30 pm (GMT -3), at Casa Criatura, an innovation space located at Rua do Amparo, Olinda Old City. Careables is an open and inclusive approach to healthcare for people based on digital manufacturing, distributed production and collaborative making. It also provides an environment of innovation and collaboration that allows citizens to co-design and deliver people-centred health products. The meeting in Olinda aims to promote the first of a series of events that will bring people from different backgrounds together to work on solutions for the theme. The initiative is part of a global consortium involving countries in Europe, Africa, Asia and South America. The event is free.
Em português:
Olinda recebe encontro latino-americano de tecnologia e saúde
Evento de abertura será realizado quarta (05/02), no Sítio Histórico de Olinda, e promoverá encontro de pessoas interessadas no tema
Um ambiente de inovação e colaboração que permite aos cidadãos projetar e fornecer produtos de saúde centrados nas pessoas. Assim é a plataforma internacional "Careables", que se configura como uma abordagem aberta e inclusiva de assistência médica para pessoas com base na fabricação digital, fabricação distribuída e produção colaborativa. O evento de abertura da primeira fase do programa Careables América Latina 2020 acontecerá na quarta-feira, 5 de fevereiro, às 19h30, na Casa Criatura, espaço de inovação localizado na Rua do Amparo, Sítio Histórico de Olinda. A ideia é promover o primeiro de uma série de momentos que irão aproximar pessoas de diferentes especialidades para trabalhar em soluções para o tema. A iniciativa faz parte de um consórcio global que envolve países da Europa, África, Ásia e América do Sul. O evento é gratuito.
Veja o conteúdo completo aqui!
News about this meet here!