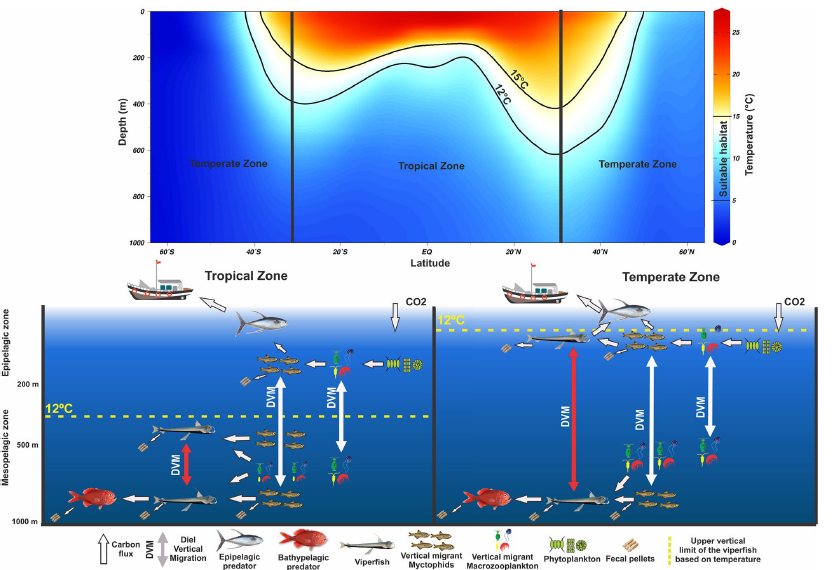 Mesopelagic fishes are numerically the most important vertebrate group of all world's oceans. While these species are increasingly threatened by anthropogenic activities, basic biological knowledge is still lacking. For instance, major uncertainties remain on the behaviour, ecology, and thus functional roles of mesopelagic micronektivores, particularly regarding their interactions with physicochemical features. Here, we examine the trophic ecology, habitat, and migratory behaviour of the viperfish (Chauliodus sloani)—a poorly known and abundant deep-sea species—to further understand the ecology and thus functional role of mesopelagic micronektivores. Moreover, we explore how physical drivers may affect these features and how these relationships are likely to change over large oceanic areas. The viperfish heavily preys on epipelagic migrant species, especially myctophids, and presents spatial and trophic ontogenetic shifts. Temperature restricts its vertical distribution. Therefore, its trophodynamics, migratory behaviour, and functional roles are expected to be modulated by the latitudinal change in temperature. For instance, in most tropical regions the viperfish stay full-time feeding, excreting, and serving as prey (e.g. for bathypelagic predators) at deep layers. On the contrary, in temperate regions, the viperfish ascend to superficial waters where they trophically interact with epipelagic predators and may release carbon where its remineralization is the greatest.
https://doi.org/10.1038/s41598-020-77222-8
Reference
Eduardo L.N., Lucena-Frédou F., Mincarone M.M., Soares A., Le Loc'h F., Frédou T., Ménard F., Bertrand A. 2020. Trophic ecology, habitat, and migratory behaviour of the viperfish Chauliodus sloani reveal a key mesopelagic player. Scientific Reports, 10: 20996.