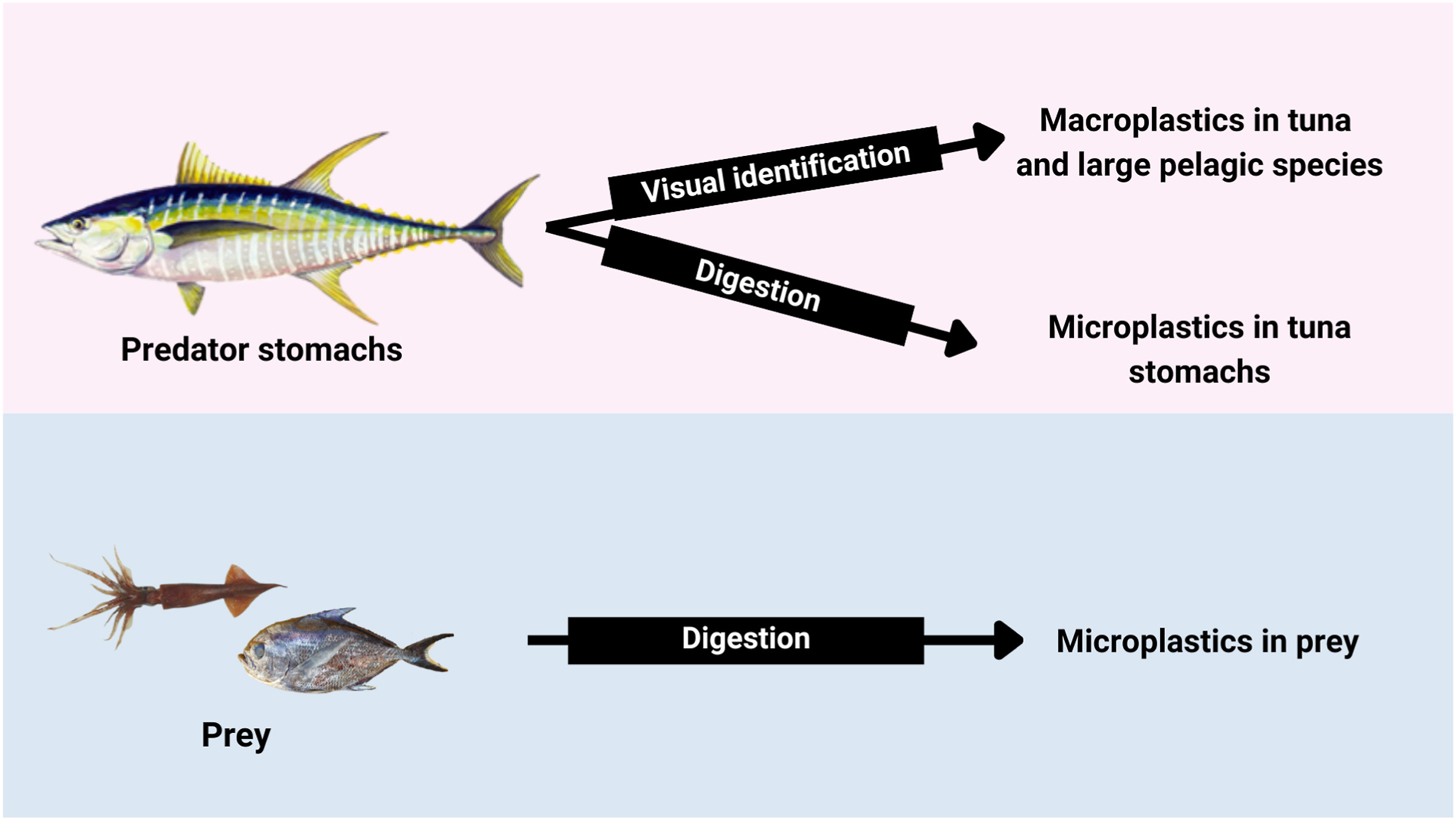 Plastic pollution is present in most marine environments; however, contamination in pelagic predators, including species of economic interest, is still poorly understood. This study aims to access the macro- and microplastic contamination in tuna and large pelagic species and verify whether a trophic transfer occurs from prey to tunas captured by two fleets in the Southwestern Tropical Atlantic (SWTA). We combined different methodological approaches to analyse the intake of macro- and microplastics. In addition to examining the plastics in the fish' stomachs, we investigated the contamination in the prey retrieved from the guts of predators. A low frequency of occurrence (3%) of macroplastic was detected in the tuna and large pelagic species; conversely, we observed a high frequency of microplastic in the tuna's stomachs (100%) and prey analysed (70%). We evinced the trophic transfer of microplastics by analysing the ingestion rate of particles in prey retrieved from the tuna stomachs. In the 34 analysed prey, we detected 355 microplastic particles. The most contaminated prey were cephalopods and fishes of the Bramidae family. The most frequent microplastic shapes in both prey and tuna stomachs were foams, pellets and fibres (<1 mm). A variety of polymers were identified; the most frequent were styrene-butadiene rubber (SBR), polyamide (PA), polyethylene terephthalate (PET) and polyethylene (PE). Our findings enhance scientific knowledge of how the ecological behaviour of marine species can affect microplastic intake.
DOI: doi.org/10.1016/j.envpol.2023.121532
Reference
Justino, A. K., Ferreira, G. V., Fauvelle, V., Schmidt, N., Lenoble, V., Pelage, L., … & Lucena-Frédou, F. (2023). From prey to predators: Evidence of microplastic trophic transfer in tuna and large pelagic species in the southwestern Tropical Atlantic. Environmental Pollution, 121532.