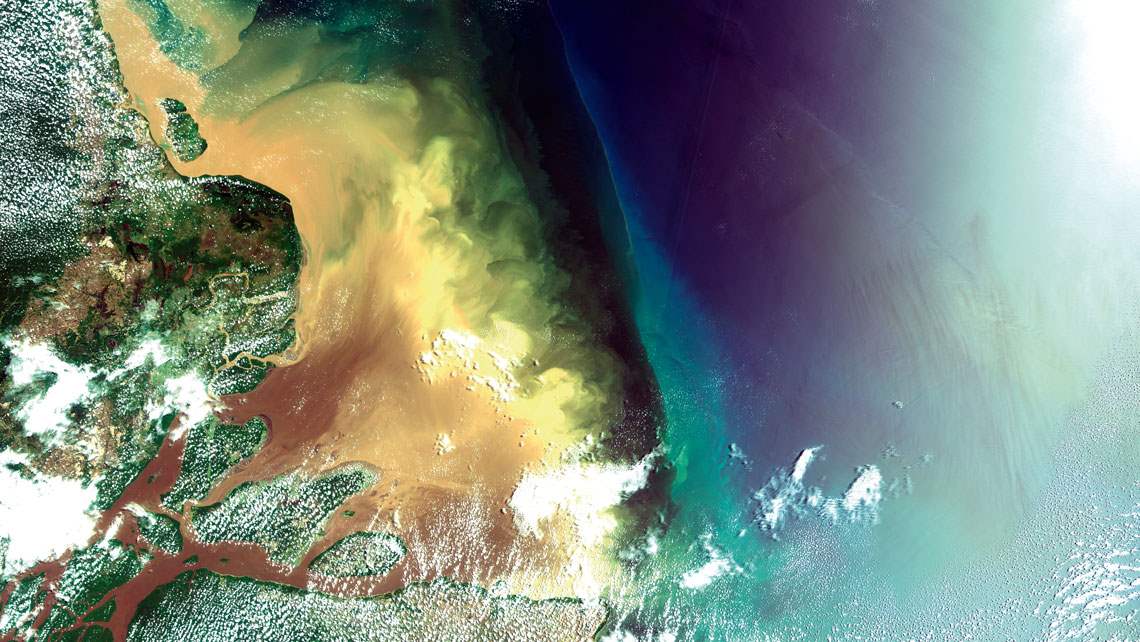 Água e sedimentos do rio Amazonas penetram milhares de quilômetros no oceano e separam parte das espécies marinhas brasileiras daquelas do Caribe
Já imaginou que o Rio Amazonas fosse capaz de criar uma barreira no oceano Atlântico?
O Amazonas é o rio mais volumoso e extenso do mundo. A cada segundo, dá vazão a 300 milhões de litros na sua foz (ilha Marajó), além de despejar uma grande quantidade de sedimentos. Em um mês, as suas torrentes transferem da cordilheira do Andes para o Atlântico uma quantidade de partículas em suspensão que seria o equivalente ao morro do Pão de Açúcar, do Rio de Janeiro.
"Uma barreira no Atlântico" foi publicado pela Revista da FAPESP deste mês e reúne pesquisas que estudam a pluma de sedimentos transportada pelo rio Amazonas e como esse fenômeno tem contribuído na criação de uma barreira que tem separado espécies e populações de uma mesma espécie, localizadas em margens opostas.
Análises de detritos depositados no rio revelam que esta pluma surgiu há cerca de 9,4 milhões de anos e que o fenômeno tem, até o momento, três fases da qual a mais recente é de 2,4 milhões de anos, quando a concentração do material em suspensão aumentou 4 vezes e a coluna de sedimentos depositados a cada mil anos alcançou 120 cm. O estudo identificou que as espécies menores foram as primeiras a serem separadas pela pluma. À medida que o efeito da pluma se intensificou com a elevação da turbidez e carga de sedimentos na água, outras espécies maiores, com 50 cm, também foram separadas.
O grupo de pesquisa identificou que a pluma não é apenas um divisor de áreas com faunas distintas, mas um ecossistema com uma diversidade biológica peculiar. O biólogo Everton Tosetto e pesquisadores das universidades federais de Pernambuco (UFPE), Rural de Pernambuco (UFRPE), da Paraíba (UFPB) e do Instituto de Pesquisa para o Desenvolvimento (IRD), na França, analisaram a influência da pluma sobre a distribuição de 8.375 espécies pertencentes a 17 filos de animais encontrados no Atlântico Ocidental, do mar do Caribe a Cabo Frio, no Rio de Janeiro.
"A variedade é grande e inclui seres microscópicos que formam o plâncton, passivamente transportados pelas correntes oceânicas, animais que vivem no fundo do mar, como anêmonas e poliquetas, e outros com boa capacidade própria de deslocamento, por exemplo, crustáceos, peixes e até aves. "Trabalhos anteriores focaram em filos específicos. Mostramos que a pluma do rio Amazonas é uma barreira à dispersão dos principais grupos de animais marinhos", afirma o biólogo que faz um estágio de pós-doutorado no IRD (Pesquisa FAPESP, 2022).
Quer ver a entrevista na íntegra? Acesse o link.
–
Artigos científicos
ARAÚJO, G. S. et al. The Amazon-Orinoco barrier as a driver of reef-fish speciation in the Western Atlantic through time. Journal of Biogeography. No prelo.
TOSETTO, E. G. et al. The Amazon River plume, a barrier to animal dispersal in the Western Tropical Atlantic. Scientific Reports. 11 jan. 2022.
LEAL, C. V. et al. Sponges present a core prokaryotic community stable across Tropical Western Atlantic. Science of the Total Environment. 13 abr. 2022.