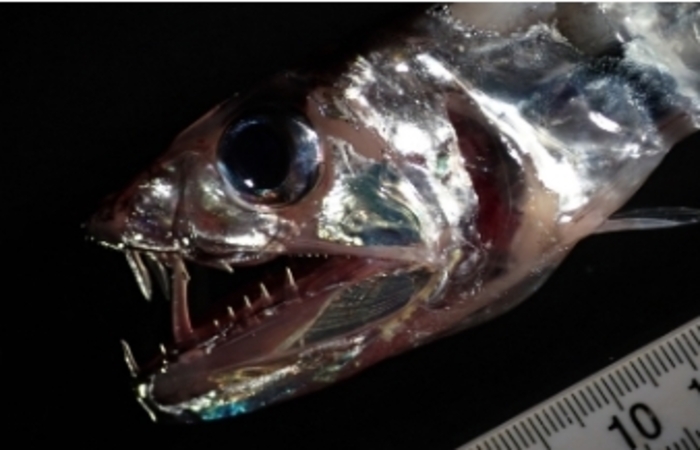 Uma equipe de cientistas da Universidade Federal Rural de Pernambuco e da Universidade Federal do Rio de Janeiro, em conjunto com o instituto de pesquisa francês IRD (Institut de Recherche pour le Développement), realizaram um estudo pioneiro no oceano profundo ao longo da região Nordeste do Brasil, entre 200 e 1100 metros de profundidade. O estudo é baseado em duas campanhas oceanográficas realizadas a bordo do navio oceanográfico francês Antea no ano de 2015 e 2017, como parte do projeto ABRACOS e grupo de pesquisa TAPIOCA

No estudo recém-publicado os pesquisadores relatam uma incrível diversidade de peixes, incluindo novas espécies e organismos nunca encontrados em águas brasileiras. Ao menos 200 espécies foram registradas, incluindo uma incrível diversidade de tamanhos, formas, e características peculiares de organismos que vivem em zonas profundas como, por exemplo, a bioluminescência. Muitas dessas espécies têm aparência "alienígena" e são fundamentais para processos ecossistêmicos que aumentam o sequestro de carbono e auxiliam na regulação climática do planeta.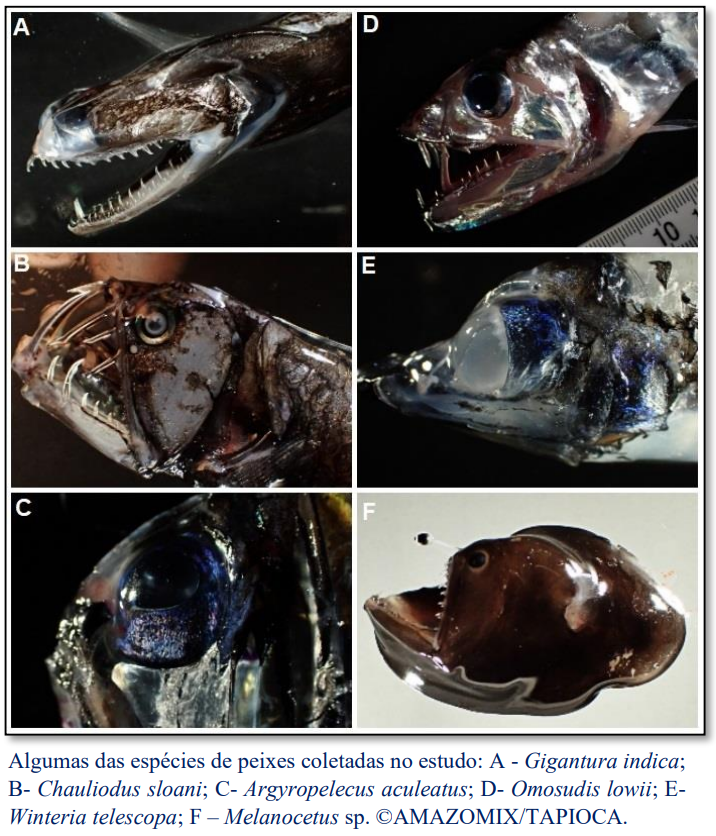 O estudo aumenta o conhecimento sobre um dos maiores e mais desconhecidos ecossistemas do mundo, se concretizando com um importante avanço no estudo da biodiversidade brasileira.

Espera-se que as informações publicadas ajudem no entendimento do funcionamento e evolução dos ecossistemas marinhos, e que promova iniciativas de conservação.
Publicação
Rich and underreported: First integrated assessment of the diversity of mesopelagic fishes in the southwestern Tropical Atlantic – Frontiers in Marine Science 2022.

Leandro Nolé Eduardo, Arnaud Bertrand, Flávia Lucena-Frédou, Bárbara Teixeira Villarins, Júlia Rodrigues Martins, Gabriel Vinícius Felix Afonso, Theodore Wells Pietsch, Thierry Frédou, Fabio Di Dario, and Michael Maia Mincarone. 2022.
Mídias externas
Diário de Pernambuco: Pesquisadores descobrem mais de 200 espécies de peixes em zonas profundas do mar no NE
Contato
Leandro Nolé Eduardo – leandronole@hotmail.com (UFRPE/IRD)
Michael Maia Mincarone – mincarone@gmail.com (UFRJ)